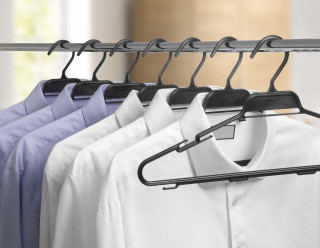 From its start up in 1982, The Hanger Company NZ Limited was founded on the principle of producing quality New Zealand made products for the domestic garment industry, and we are very proud to continue and improve the manufacturing of these products.
Focused initially on the concept of producing colour coding hanger clips and marker discs to help retail customers readily identify sizes, the company expanded into producing New Zealand made hangers.
As our hangers are manufactured from 100% recyclable material, we also offer a closed loop supply of our products, where we accept any broken or unwanted hangers back to be recycled. The range offers all tiers of the NZ garment industry, an environmentally conscious New Zealand made product specifically designed to meet market requirements.